About 30kVA Solar Inverter
A 30kVA solar inverter is a high capacity 360V 3-phase solar inverter, powered with reliable, regulated and stabilized pure sine wave output. It is an aesthetically pleasing power converting system with over 98% maximum efficiency and is suitable for all types of home appliances and commercial establishments that require uninterrupted power supply.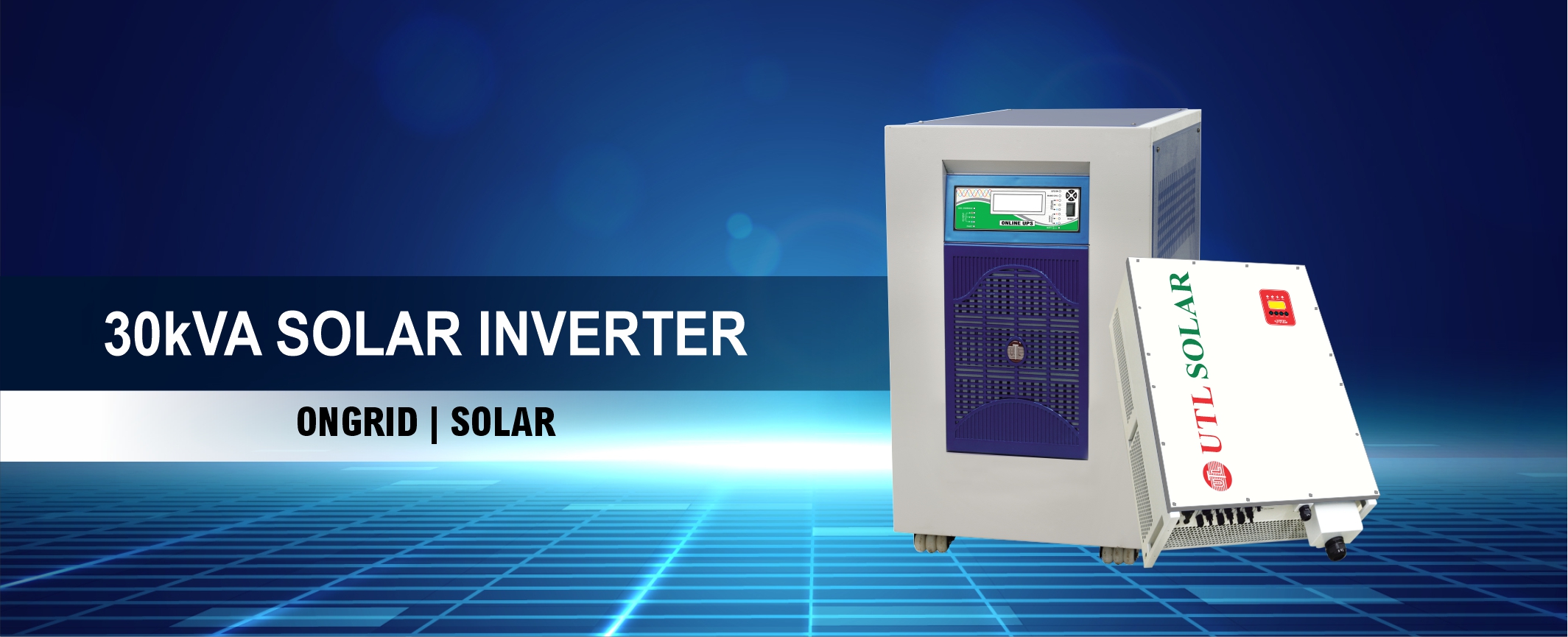 The 30kVA solar inverter by UTL is also a high-performance power protection device that has been engineered to be energy efficient with minimum possibility of load failure. The inverter is IP65 and IP20 protected (as per the model) alongside several other protection functions that first run the load through the photo-voltaic panels and thereafter through the grid, if available. The combination of pulse-width modulation (PWM) with MPPT controller and other multi-level technologies enable it to track the maximum power of solar panel.
UTL's 30kVa solar inverter provides a more flexible system configuration for medium and large solar power plants. There are unbeatable features in the 30kVA solar inverter that optimizes the performance of connected solar battery and enhances their expected working life. Except for the features, you will get many outstanding advantages here such as power density, modular design, easy installation and maintenance, and highly cost-effective. The 30kVA UTL solar inverter is worth every penny invested in it because of its high performance and durability.
UTL 30kVA Solar Inverter Range
| | | |
| --- | --- | --- |
| Models | MRP ( Inclusive of all Taxes ) | Discounted Price ( Inclusive of all Taxes ) |
| 30kVA/3 Phase String Solar Inverter | Rs. 2,30,000.00 | Rs. 1,77,942.00 |
| 30kVA/360V Star Online Solar PCU | Rs. 4,81,140.00 | Rs. 4,24,122.00 |
30kVA On-Grid String Solar Inverter (3 Phase)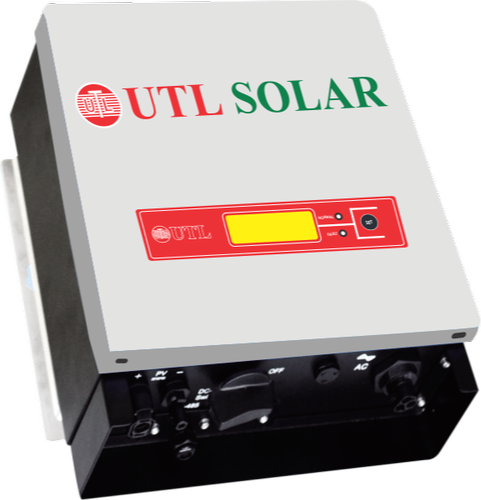 | | |
| --- | --- |
| Particular | Description |
| Model | UTL 30 GT |
| System Rating | 30kVA - 3 Phase |
| Max. DC Power | 39kW |
| Max. DC Voltage/Nominal DC Voltage | 1000V |
| MPPT Voltage Range | 250V - 950V |
| Full Load Voltage Range | 400V-800V |
| Normal DC Voltage | 620V |
| Min./Start DC Voltage | 200V - 250V |
| No. of MPP Trackers | 3 |
| Strings as per MPP Tracker | 2 |
| Max. Input Current per MPP Tracker | 26A |
| Normal AC Output Power | 30kW |
| Max. AC Output Power | 33kW |
| Normal AC Voltage | 400V |
| AC Voltage Range | 400V ± 20% |
| Normal AC Grid Frequency | 50/60Hz |
| AC Grid Frequency Range | 50/60Hz (± 5Hz) |
| Rated Output Current | 44A |
| Max. Output Current | 48A |
| THDI | <3% |
| AC Connection | 3W+N+PE/3W+P E |
| Topology | Transformerless |
| Maximum Efficiency | 98.3% |
| Euro-eta | 98.0% |
| All-Pole Fault Current Monitoring Unit | Yes |
| Ground Fault Monitoring | Yes |
| Operating Temperature Range | -25°C to +60°C |
| Noise Emission | <40dB |
| Protection Rating | IP65 |
| LCD Display | Yes |
| Cooling Concept | Convection |
| Interfaces | RS485/Wi-Fi |
| Dimension | 636mmX958mmX260mm |
| Weight | 61kG |
| MRP ( Inclusive of all Taxes ) | Rs. 2,30,000.00 |
| Discounted Price ( Inclusive of all Taxes ) | Rs. 1,77,942.00 |
Silent Features
Transformer-less inverter for better compatibility.
Low harmonic current distortion (THDi<3%).
IP65 certified solar product by UTL.
Comes with Onboard SPDs for DC & AC sides.
Supportable for Wi-Fi and monitoring applications.
Manufactured with multiple protection levels.
5 years standard warranty for better reliability.
30kVA/360V Star Online Solar PCU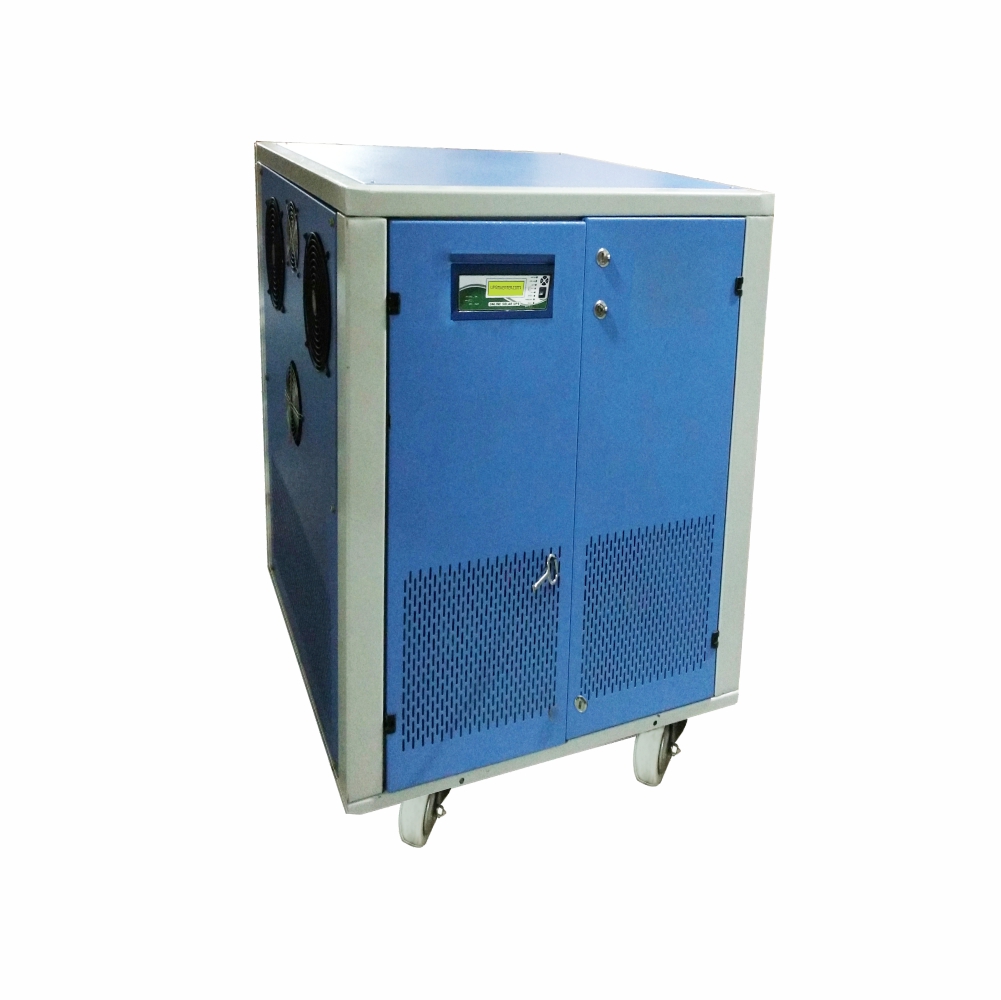 Particulars
Description
Power Rating
30kVA/360V
Voltage Range
400V±20% Three-phase four-wire
Frequency
50Hz±10%
Power Factor
0.94
Charger Topology
Buck
Connection Type
Terminal Block
Normal PV Power
30kW
Voc (min-max)
540V – 810V
Vmp
430V - 730V
Switching Device
IGBT
Switching Freq.
16KHz
No. of Charger Controller
One
Type of Charger
PWM with MPPT
Peak Efficiency (DC-DC)
96%
Output Voltage
220V/260V ±1%
Output Load Current
104.3A
Output Efficiency (AC – AC)
>90%@Full Load
Output Frequency
50Hz
Waveform
Pure Sine Wave
Transient response
<8 (10% - 90% Linear Load)
Voltage Harmonics
<3% (Linear Load)
Crest Factor
3:1
Voltage Regulation
±1%
Frequency Regulation
±0.05Hz
Alarm
Battery Low, Battery High, Overload
LEDs
UPS ON, CHG ON, Input R/Y/B High & low, Output Low-High, Overload, Fault, Battery Low/High, SPV Low/High, SPV CHG ON
Protections
Output Overvoltage/Under-voltage,

Overload, Output Short-circuit,

Battery Overvoltage/under voltage,

SPV Under Voltage/ Over Voltage,

Input Under-Voltage/Over Voltage

Transfer Time
0 msec
Extended Battery Charging
Optional
Caster Wheels
Yes
Operating Environment
0-50° C
Operating Relative Humidity
(5%-95%) Non-condensed
Storage Environment
0-75° C
Storage Relative Humidity
0-95%
Degree of Protection
IP20
Remote Monitoring
Ethernet (Optional)
Dimension (LXWXH)
990x660x889 mm
MRP ( Inclusive of all Taxes )
Rs.4,81,140.00
Discounted Price ( Inclusive of all Taxes )
Rs.4,24,122.00
Silent Features
Short circuit, input under/over-voltage protection.
Intelligent charge sharing.
DSP based design Pure Sinewave
Built-in rMPPT charge controller.
Lightning, surge protection by SPD.
Thermal Protection.
Maximum Preference for Solar Power.
Ethernet-based monitoring.
Noiseless in operation.
Robust Design - 20 years of Product life.
AC and DC Parameter Configurable from LCD.
DC- Charging Voltage Battery Charging Current, Battery Low Cut/High Cut.
High Surge Capability (up to 300%) for starting heavy load.
High Efficiency & High Reliability.
Configurable Priority.

Solar/Battery/Grid
Solar/Grid/Battery
FAQs
How much power does a 30kVA solar inverter produce?
A 30kVA solar inverter is genuinely used with a 30kW solar system and a 30kW solar system can produce up to 120 units per day. So accordingly, you will get 120 units through 30kVA inverter in a day.
What is the price of a 30kVA commercial solar inverter?
The actual price depends upon the model that you will choose. But the price range of 30kVA solar inverter lies between Rs.1,77,942 to Rs.3,77,610.
How many batteries do I need with 30kVA solar inverter?
Batteries are needed only if you are installing off-grid solar systems or hybrid solar systems. If you have these types of solar systems then you will need at least 30 nos. of UTL solar batteries.
Can a 30kVA solar inverter run my 2 solar water pumps simultaneously?
Yes, it can run 2 solar water pumps at the same time if the load limit is beyond 30kW or 30,000 watts.
What is the average payback period of UTL's 30kVA online solar PCU?
The average payback period of UTL 30kVA online solar PCU is 3 to 5 years. You will get a full ROI within 5 years.
What is the warranty period for this solar inverter?
UTL offers 2-year warranty on 30kVA online solar PCU and 5 years warranty on 30kVA grid-tie solar inverter.
To get UTL Dealer Number at your phone please fill the Form