About Mars Online Solar PCU
Mars solar PCU is available in 3 Phase in 1Phase out or 3 Phase in 3 Phase out with zero changeovers and suitable for all resistivity loads. Mars online solar PCU is next-generation solar PCU that is specially designed to fulfil your requirements. It works on double conversion principle to provide regulated output voltage under several input conditions such as power failure, surge, sag, spikes, noise, frequency instability, and harmonic distortions. It is DSP and MPPT technology-based solar PCU with a single control board that ensures an independent, stable, and transient free uninterrupted power supply.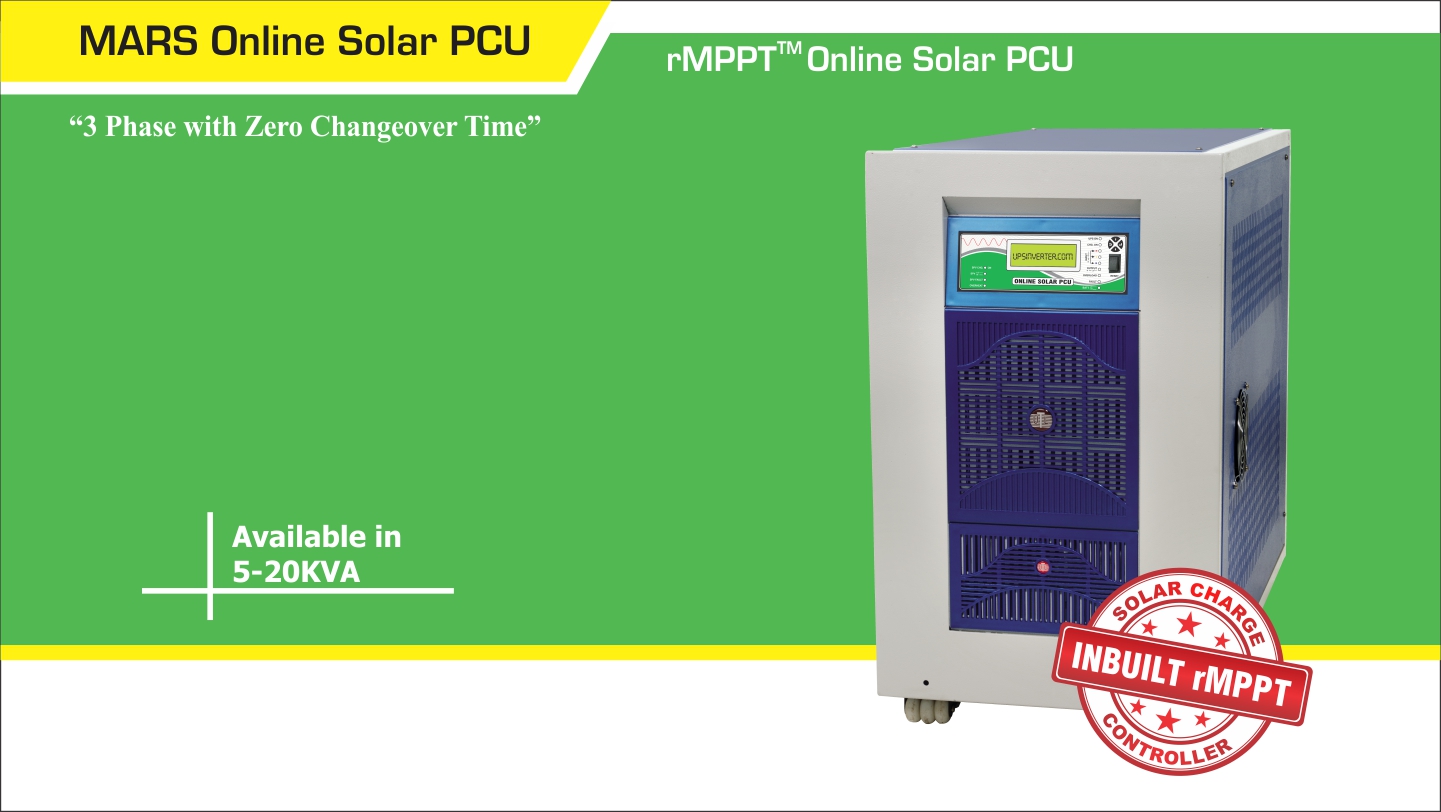 This PCU converts the variable direct current (DC) output of a photovoltaic (PV) solar panel into a utility frequency alternating current (AC) that can be used by the local, off-grid solar electrical network or feed into a commercial electrical grid. Mars online solar PCU (power conditioning unit) has special functions adapted for use with photovoltaic arrays, including maximum power point tracking and anti-islanding protection.
Price of Mars Solar PCU
This is the latest price list of Mars online solar PCU 5KVA to 20KVA.
| | | |
| --- | --- | --- |
| Model | MRP ( Inclusive of all Taxes ) | Discounted Price ( Inclusive of all Taxes ) |
| Mars 5KVA 240V Online Solar PCU | Rs. 1,19,232.00 | Rs. 1,11,262.00 |
| Mars 8KVA 240V Online Solar PCU | Rs. 1,61,352.00 | Rs. 1,50,772.00 |
| Mars 10KVA 240V Online Solar PCU | Rs. 2,07,230.00 | Rs. 1,82,623.00 |
| Mars 15KVA 240V Online Solar PCU | Rs. 2,69,568.00 | Rs 2,37,589.00 |
| Mars 20KVA 240V Online Solar PCU | Rs. 3,59,316.00 | Rs. 3,16,744.00 |
Technical Details of Mars 5KVA 240V Solar PCU
| | |
| --- | --- |
| Particulars | Description |
| Mars PCU Capacity | 5KVA 240V |
| Voltage Range | 400V±20% Three phase four wire |
| Frequency | 50Hz±20% |
| Power Factor | >0.92 |
| Charger Topology | Buck |
| Solar | 5kW |
| Voc (min-max) | 400V - 740V |
| Vmp | 288V - 660V |
| Configurable (72 Cell) | 16 panel in series *1 strings |
| Switching Devices | IGBT |
| Switching Freq. | 16KHz |
| Type of Charger | PWM with MPPT |
| Peak Efficiency (DC - DC) | 96% |
| Battery Low Buzzer | Battery Low Cut + 0.2 |
| Battery Low Cut | 10-11.7V |
| Battery High Cut (Charger) | Battery Volt By SPV + 0.7 |
| Battery Charging Voltage by Grid | 13-14.5V |
| Battery Charging Current by Grid | 3-12A |
| Battery Charging Voltage by SPV | 13.5-15V |
| Battery Charging Current by SPV | 5-24A |
| Grid Charger Reconnect | Enable /Disable |
| Output Voltage Low Cut | 170-190V |
| Output Voltage High Cut | 250-260V |
| Voltage | 380V/400V/415V ±1% (3phase 4 wire) |
| Load Current | 5.8A |
| Efficiency (AC - AC) | >90%@Full Load |
| Frequency | 50Hz |
| Waveform | Pure Sine Wave |
| Voltage Harmonics | <3% Linear Load |
| Overload Capacity | 100 to 110%-10 Min., 110 to 120%-2 Min.; 120 to 150%-30 Sec; 150 to 200%-2 Sec; 200 to 300%-1sec.; 300 to 400%-250msec., >400%-20-30msec. |
| Crest Factor | 3:1 |
| Voltage Harmonics | ±1% |
| Frequency Regulation | ±0.05Hz |
| Alarm | Battery Low, battery High, Overload |
| Extended Battery Charging | Yes |
| Caster Wheels | Yes |
| Operating Environment | 0-50° C |
| Operating Relative Humidity | (5%-95%) Non-condensed |
| Storage Environment | 0-75°C |
| Storage Relative Humidity | 0-95% |
| Degree of Protection | IP20 |
| Remote Monitoring | Ethernet (Optional) |
| Dimension (LXWXH) | 584 x 330 x 660 mm |
| MRP ( Inclusive of all Taxes ) | Rs. 1,19,232.00 |
| Discounted Price ( Inclusive of all Taxes ) | Rs. 1,11,262.00 |
Technical Details of Mars 8KVA 240V Solar PCU
| | |
| --- | --- |
| Particulars | Description |
| Mars PCU Capacity | 8KVA 240V |
| Voltage Range | 400V±20% Three phase four wire |
| Frequency | 50Hz±20% |
| Power Factor | >0.92 |
| Charger Topology | Buck |
| Solar | 8kW |
| Voc (min-max) | 400V - 740V |
| Vmp | 288V - 660V |
| Configurable (72 Cell) | 12 panel in series *2 strings |
| Switching Devices | IGBT |
| Switching Freq. | 16KHz |
| Type of Charger | PWM with MPPT |
| Peak Efficiency (DC - DC) | 96% |
| Battery Low Buzzer | Battery Low Cut + 0.2 |
| Battery Low Cut | 10-11.7V |
| Battery High Cut (Charger) | Battery Volt By SPV + 0.7 |
| Battery Charging Voltage by Grid | 13-14.5V |
| Battery Charging Current by Grid | 3-12A |
| Battery Charging Voltage by SPV | 13.5-15V |
| Battery Charging Current by SPV | 5-24A |
| Grid Charger Reconnect | Enable /Disable |
| Output Voltage Low Cut | 170-190V |
| Output Voltage High Cut | 250-260V |
| Voltage | 380V/400V/415V ±1% (3phase 4 wire) |
| Load Current | 8.7A |
| Efficiency (AC - AC) | >90%@Full Load |
| Frequency | 50Hz |
| Waveform | Pure Sine Wave |
| Voltage Harmonics | <3% Linear Load |
| Overload Capacity | 100 to 110%-10 Min., 110 to 120%-2 Min.; 120 to 150%-30 Sec; 150 to 200%-2 Sec; 200 to 300%-1sec.; 300 to 400%-250msec., >400%-20-30msec. |
| Crest Factor | 3:1 |
| Voltage Harmonics | ±1% |
| Frequency Regulation | ±0.05Hz |
| Alarm | Battery Low, battery High, Overload |
| Extended Battery Charging | Yes |
| Caster Wheels | Yes |
| Operating Environment | 0-50° C |
| Operating Relative Humidity | (5%-95%) Non-condensed |
| Storage Environment | 0-75°C |
| Storage Relative Humidity | 0-95% |
| Degree of Protection | IP20 |
| Remote Monitoring | Ethernet (Optional) |
| Dimension (LXWXH) | 584 x 330 x 660 mm |
| MRP ( Inclusive of all Taxes ) | Rs. 1,61,352.00 |
| Discounted Price ( Inclusive of all Taxes ) | Rs. 1,50,772.00 |
Technical Details of Mars 10KVA 240V Solar PCU
| | |
| --- | --- |
| Particulars | Description |
| Mars Solar PCU Capacity | 10KVA 240V |
| Voltage Range | 400V±20% Three phase four wire |
| Frequency | 50Hz±20% |
| Power Factor | >0.92 |
| Charger Topology | Buck |
| Solar | 10kW |
| Voc (min-max) | 400V - 740V |
| Vmp | 288V - 660V |
| Configurable (72 Cell) | 16 panel in series *2 strings |
| Switching Devices | IGBT |
| Switching Freq. | 16KHz |
| Type of Charger | PWM with MPPT |
| Peak Efficiency (DC - DC) | 96% |
| Battery Low Buzzer | Battery Low Cut + 0.2 |
| Battery Low Cut | 10-11.7V |
| Battery High Cut (Charger) | Battery Volt By SPV + 0.7 |
| Battery Charging Voltage by Grid | 13-14.5V |
| Battery Charging Current by Grid | 3-12A |
| Battery Charging Voltage by SPV | 13.5-15V |
| Battery Charging Current by SPV | 5-24A |
| Grid Charger Reconnect | Enable /Disable |
| Output Voltage Low Cut | 170-190V |
| Output Voltage High Cut | 250-260V |
| Voltage | 380V/400V/415V ±1% (3phase 4 wire) |
| Load Current | 11.6A |
| Efficiency (AC - AC) | >90%@Full Load |
| Frequency | 50Hz |
| Waveform | Pure Sine Wave |
| Voltage Harmonics | <3% Linear Load |
| Overload Capacity | 100 to 110%-10 Min., 110 to 120%-2 Min.; 120 to 150%-30 Sec; 150 to 200%-2 Sec; 200 to 300%-1sec.; 300 to 400%-250msec., >400%-20-30msec. |
| Crest Factor | 3:1 |
| Voltage Harmonics | ±1% |
| Frequency Regulation | ±0.05Hz |
| Alarm | Battery Low, battery High, Overload |
| Extended Battery Charging | Yes |
| Caster Wheels | Yes |
| Operating Environment | 0-50° C |
| Operating Relative Humidity | (5%-95%) Non-condensed |
| Storage Environment | 0-75°C |
| Storage Relative Humidity | 0-95% |
| Degree of Protection | IP20 |
| Remote Monitoring | Ethernet (Optional) |
| Dimension (LXWXH) | 762 x 406 x 685 mm |
| MRP  ( Inclusive of all Taxes ) | Rs. 2,07,230.00 |
| Discounted Price ( Inclusive of all Taxes ) | Rs. 1,82,623.00 |
Technical Details of Mars 15KVA 240V Solar PCU
| | |
| --- | --- |
| Particulars | Description |
| Mars Solar PCU Capacity | 15KVA 240V |
| Voltage Range | 400V±20% Three phase four wire |
| Frequency | 50Hz±20% |
| Power Factor | >0.92 |
| Charger Topology | Buck |
| Solar | 15kW |
| Voc (min-max) | 400V - 740V |
| Vmp | 288V - 660V |
| Configurable (72 Cell) | 12 panel in series *4 strings |
| Switching Devices | IGBT |
| Switching Freq. | 16KHz |
| Type of Charger | PWM with MPPT |
| Peak Efficiency (DC - DC) | 96% |
| Battery Low Buzzer | Battery Low Cut + 0.2 |
| Battery Low Cut | 10-11.7V |
| Battery High Cut (Charger) | Battery Volt By SPV + 0.7 |
| Battery Charging Voltage by Grid | 13-14.5V |
| Battery Charging Current by Grid | 3-12A |
| Battery Charging Voltage by SPV | 13.5-15V |
| Battery Charging Current by SPV | 5-24A |
| Grid Charger Reconnect | Enable /Disable |
| Output Voltage Low Cut | 170-190V |
| Output Voltage High Cut | 250-260V |
| Voltage | 380V/400V/415V ±1% (3phase 4 wire) |
| Load Current | 17.4A |
| Efficiency (AC - AC) | >90%@Full Load |
| Frequency | 50Hz |
| Waveform | Pure Sine Wave |
| Voltage Harmonics | <3% Linear Load |
| Overload Capacity | 100 to 110%-10 Min., 110 to 120%-2 Min.; 120 to 150%-30 Sec; 150 to 200%-2 Sec; 200 to 300%-1sec.; 300 to 400%-250msec., >400%-20-30msec. |
| Crest Factor | 3:1 |
| Voltage Harmonics | ±1% |
| Frequency Regulation | ±0.05Hz |
| Alarm | Battery Low, battery High, Overload |
| Extended Battery Charging | Yes |
| Caster Wheels | Yes |
| Operating Environment | 0-50° C |
| Operating Relative Humidity | (5%-95%) Non-condensed |
| Storage Environment | 0-75°C |
| Storage Relative Humidity | 0-95% |
| Degree of Protection | IP20 |
| Remote Monitoring | Ethernet (Optional) |
| Dimension (LXWXH) | 762 x 406 x 685 mm |
| MRP ( Inclusive of all Taxes ) | Rs. 2,69,568.00 |
| Discounted Price ( Inclusive of all Taxes ) | Rs. 2,37,589.00 |
Technical Details of Mars 20KVA 240V Solar PCU
| | |
| --- | --- |
| Particulars | Description |
| Mars Solar PCU Capacity | 20KVA 240V |
| Voltage Range | 400V±20% Three phase four wire |
| Frequency | 50Hz±20% |
| Power Factor | >0.92 |
| Charger Topology | Buck |
| Solar | 20kW |
| Voc (min-max) | 400V - 740V |
| Vmp | 288V - 660V |
| Configurable (72 Cell) | 16 panel in series *4 strings |
| Switching Devices | IGBT |
| Switching Freq. | 16KHz |
| Type of Charger | PWM with MPPT |
| Peak Efficiency (DC - DC) | 96% |
| Battery Low Buzzer | Battery Low Cut + 0.2 |
| Battery Low Cut | 10-11.7V |
| Battery High Cut (Charger) | Battery Volt By SPV + 0.7 |
| Battery Charging Voltage by Grid | 13-14.5V |
| Battery Charging Current by Grid | 3-12A |
| Battery Charging Voltage by SPV | 13.5-15V |
| Battery Charging Current by SPV | 5-24A |
| Grid Charger Reconnect | Enable /Disable |
| Output Voltage Low Cut | 170-190V |
| Output Voltage High Cut | 250-260V |
| Voltage | 380V/400V/415V ±1% (3phase 4 wire) |
| Load Current | 23.2A |
| Efficiency (AC - AC) | >90%@Full Load |
| Frequency | 50Hz |
| Waveform | Pure Sine Wave |
| Voltage Harmonics | <3% Linear Load |
| Overload Capacity | 100 to 110%-10 Min., 110 to 120%-2 Min.; 120 to 150%-30 Sec; 150 to 200%-2 Sec; 200 to 300%-1sec.; 300 to 400%-250msec., >400%-20-30msec. |
| Crest Factor | 3:1 |
| Voltage Harmonics | ±1% |
| Frequency Regulation | ±0.05Hz |
| Alarm | Battery Low, battery High, Overload |
| Extended Battery Charging | Yes |
| Caster Wheels | Yes |
| Operating Environment | 0-50° C |
| Operating Relative Humidity | (5%-95%) Non-condensed |
| Storage Environment | 0-75°C |
| Storage Relative Humidity | 0-95% |
| Degree of Protection | IP20 |
| Remote Monitoring | Ethernet (Optional) |
| Dimension (LXWXH) | 965 x 660 x 889 mm |
| MRP ( Inclusive of all Taxes ) | Rs. 3,59,316.00 |
| Discounted Price ( Inclusive of all Taxes ) | Rs. 3,16,744.00 |
Unique Features of Mars Solar PCU
DSP based design Pure Sine wave, Built in MPPT charge controller
Thermal Protection
Maximum Preference to Solar Power
Ethernet based monitoring
Noiseless in Operation
Robust Design - 20 years Product life
Configurable Priority

Solar/Battery/Grid
Solar/Grid/Battery

AC and DC Parameter Configurable from LCD
AC-Output Voltage
DC- Charging Voltage Battery Charging Current, Battery Low Cut/High Cut.
High Surge Capability (up to 300%) for starting heavy load
High Efficiency & High Reliability
LED Indication - UPS ON, Mains Charging, Overload, Output High/Low, Battery High/Low, Bypass, SPVCG ON, SPV High/Low, CHG. OVERHEAT, AC Input High/Low R,Y,B, fault
LCD (20*4) Display - Input Voltage & Freq. R,Y,B, Output Voltage, Freq. & Load%, Battery Voltage, Charging Current, Solar Voltage, Solar Current, Solar Watt, Working Status
Protections - Output Overvoltage/Under voltage, Overload, Output Short-circuit, Battery Overvoltage/ under voltage, SPV Under Voltage/ Over Voltage, Input Under Voltage/Over Voltage
To get UTL Dealer Number at your phone please fill the Form