About Alfa Online Solar PCU
In this solar PCU have zero changeovers suitable for banks and IT companies. Alfa online solar PCU is available in 5KVA to 10KVA. It is more efficient because of rMPPT charge controller and latest technology rectifier, an auto float cum boost charger, battery-backed inverter, and short-circuits protection for consistent power supply. Alfa online solar PCU is basically a single-phase, small size and single card-based solar PCU with double-conversion technology.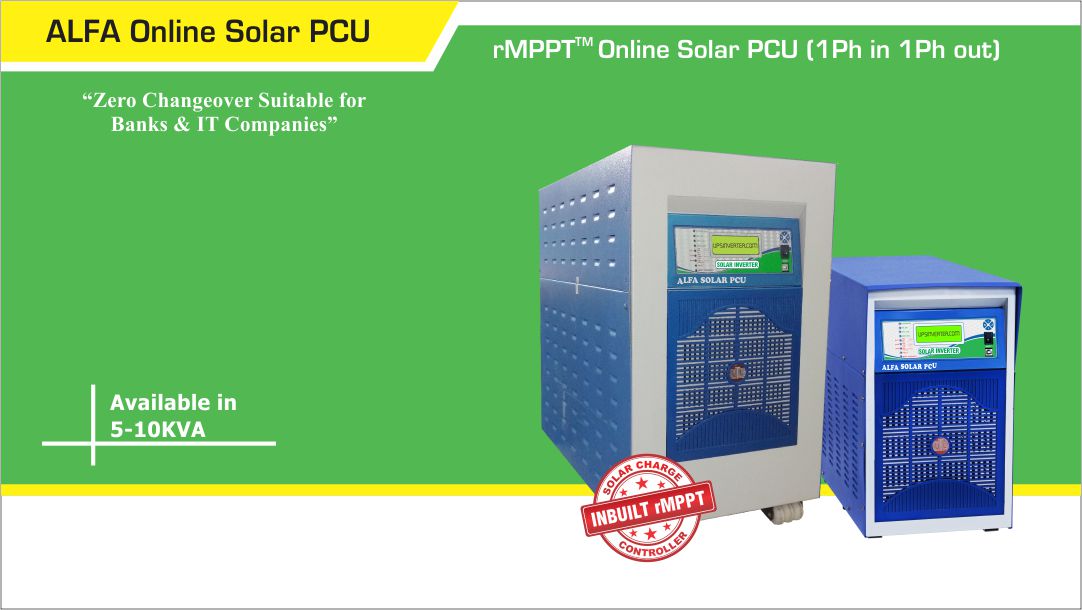 Alfa Solar PCU will automatically transfer the load to the grid power to eliminate all power disturbances, if the battery voltage goes below a set level due to constant usage of power. Simultaneously it also charges the solar battery. Once the batteries are charged to the present level, the solar PCU cuts off the grid power from the system and restore it to feeding the loads from the solar battery while also returning to charging the battery from the available solar energy.
Price of Alfa Online Solar PCU
It is available in 5KVA to 10KVA with latest MPPT charge controller. We have listed below the latest price list ( Inclusive of all Taxes ) to Alfa Online Solar PCU.
| | | |
| --- | --- | --- |
| Model | MRP ( Inclusive of all Taxes ) | Discounted Price ( Inclusive of all Taxes ) |
| Alfa 5KVA 96V Online Solar PCU | Rs. 99,209.00 | Rs. 92,716.00 |
| Alfa 7.5KVA 120V Online Solar PCU | Rs. 1,38,720.00 | Rs. 1,24,655.00 |
| Alfa 10KVA 180V Online Solar PCU | Rs. 2,00,167.00 | Rs. 1,86,788.00 |
Technical Details of 5KVA 96V Alfa Online Solar PCU
| | |
| --- | --- |
| Particulars | Description |
| Online Solar PCU | 5KVA 96V |
| Input Voltage Range (Min-Max) | 144 – 360 VOC |
| Maximum PV Power Recommended | 5KW |
| Switching Element | IGBT |
| Controller | DSP |
| Type of Charger | MPPT |
| Priority | Solar/Grid/Battery |
| Efficiency | 95% |
| Battery Low Buzzer | Battery Low Cut + 0.2 V |
| Battery Low Cut | 10-11.7 V |
| Battery High Cut | 15-17 V |
| Battery Charging Voltage by SPV | 13.5-16 V |
| Battery Charging Current by SPV | 12-50 amp |
| Battery Charging Voltage by Grid | 12.8-14.5 V |
| Battery Charging Current by Grid | 5-15 Amp |
| Grid Low Cut Voltage | 160V |
| Grid High Cut Voltage | 280V |
| Output Voltage Low | 170-190V |
| Output Voltage High | 250-260V |
| Battery Temp. Compensation | @ 3mV/cell; 18mV/Battery |
| Grid Disconnect (Solar Available) | 13-14.5V & 20%-90% of Solar Charging Current |
| Grid Reconnect | 10.2-12.5V |
| Inverter Control | PWM |
| Nominal Output Voltage | 220VAC |
| Output Supply Phase | 1 Phase, 3 Wire |
| Nominal Frequency | 50.0Hz |
| Load Current | 18A |
| Voltage Regulation | 1.00% |
| Output Voltage Distortion with 100% Linear Load | <3% |
| Overload Capacity % | 100-110 : 10 Minutes 110-120 : 2 Minutes 120-150 : 30 sec 150-200 : 2sec 200-300 : 1sec 300-400 : 250msec |
| Peak Efficiency | 86% |
| Noise @ 1 meter | 55db |
| Cooling | Temp. Controlled Fan |
| Protections | Overload, Battery Low, Battery High, Output Low, Output High, Output Short Ckt., Overload, Under Frequency, Over Frequency, Solar Panel Reverse |
| Switches | Reset for System ON/OFF, UP, Down, Back, Enter (for LCD Configuration) |
| Indications | System ON, Inverter ON, SPV Charging, Grid Charging, Battery Low/High, Overload, Overheat, Mains Low, Mains High, Under Frequency, Over Frequency |
| Operating Temperature | 0-50°C |
| Max Relative Humidity @25°C (non Condensing) | 95% |
| Degree of Protection | IP21 |
| Data Logging | 30 Days Data Storage |
| Dimension(LxWxH) | 609 X 330 X 584 mm |
| Weight | 65kg |
| MRP ( Inclusive of all Taxes ) | Rs. 99,209.00 |
| Discounted Price ( Inclusive of all Taxes ) | Rs. 92,716.00 |
Technical Details of 7.5KVA 120V Alfa Online Solar PCU
| | |
| --- | --- |
| Particulars | Description |
| Online Solar PCU | 7.5KVA 120V |
| Input Voltage Range (Min-Max) | 180-450 VOC |
| Maximum PV Power Recommended | 7.5KW |
| Switching Element | IGBT |
| Controller | DSP |
| Type of Charger | MPPT |
| Priority | Solar/Grid/Battery |
| Efficiency | 95% |
| Battery Low Buzzer | Battery Low Cut + 0.2 V |
| Battery Low Cut | 10-11.7 V |
| Battery High Cut | 15-17 V |
| Battery Charging Voltage by SPV | 13.5-16 V |
| Battery Charging Current by SPV | 12-50 amp |
| Battery Charging Voltage by Grid | 12.8-14.5 V |
| Battery Charging Current by Grid | 5-15 Amp |
| Grid Low Cut Voltage | 160V |
| Grid High Cut Voltage | 280V |
| Output Voltage Low | 170-190V |
| Output Voltage High | 250-260V |
| Battery Temp. Compensation | @ 3mV/cell; 18mV/Battery |
| Grid Disconnect (Solar Available) | 13-14.5V & 20%-90% of Solar Charging Current |
| Grid Reconnect | 10.2-12.5V |
| Inverter Control | PWM |
| Nominal Output Voltage | 220VAC |
| Output Supply Phase | 1 Phase, 3 Wire |
| Nominal Frequency | 50.0Hz |
| Load Current | 27.2A |
| Voltage Regulation | 1.00% |
| Output Voltage Distortion with 100% Linear Load | <3% |
| Overload Capacity % | 100-110 : 10 Minutes 110-120 : 2 Minutes 120-150 : 30 sec 150-200 : 2sec 200-300 : 1sec 300-400 : 250msec |
| Peak Efficiency | 86% |
| Noise @ 1 meter | 55db |
| Cooling | Temp. Controlled Fan |
| Protections | Overload, Battery Low, Battery High, Output Low, Output High, Output Short Ckt., Overload, Under Frequency, Over Frequency, Solar Panel Reverse |
| Switches | Reset for System ON/OFF, UP, Down, Back, Enter (for LCD Configuration) |
| Indications | System ON, Inverter ON, SPV Charging, Grid Charging, Battery Low/High, Overload, Overheat, Mains Low, Mains High, Under Frequency, Over Frequency |
| Operating Temperature | 0-50°C |
| Max Relative Humidity @25°C (non Condensing) | 95% |
| Degree of Protection | IP21 |
| Data Logging | 30 Days Data Storage |
| Dimension(LxWxH) | 609 X 330 X 584 mm |
| Weight | 80kg |
| MRP ( Inclusive of all Taxes ) | Rs. 1,38,720.00 |
| Discounted Price ( Inclusive of all Taxes ) | Rs. 1,24,655.00 |
Technical Details of 10KVA 180V Alfa Online Solar PCU
| | |
| --- | --- |
| Particulars | Description |
| Online Solar PCU | 10KVA 180V |
| Input Voltage Range (Min-Max) | 270-660 VOC |
| Maximum PV Power Recommended | 10KW |
| Switching Element | IGBT |
| Controller | DSP |
| Type of Charger | MPPT |
| Priority | Solar/Grid/Battery |
| Efficiency | 95% |
| Battery Low Buzzer | Battery Low Cut + 0.2 V |
| Battery Low Cut | 10-11.7 V |
| Battery High Cut | 15-17 V |
| Battery Charging Voltage by SPV | 13.5-16 V |
| Battery Charging Current by SPV | 12-50 amp |
| Battery Charging Voltage by Grid | 12.8-14.5 V |
| Battery Charging Current by Grid | 5-15 Amp |
| Grid Low Cut Voltage | 160V |
| Grid High Cut Voltage | 280V |
| Output Voltage Low | 170-190V |
| Output Voltage High | 250-260V |
| Battery Temp. Compensation | @ 3mV/cell; 18mV/Battery |
| Grid Disconnect (Solar Available) | 13.5V & 50% |
| Grid Reconnect | 11.5V |
| Inverter Control | PWM |
| Nominal Output Voltage | 220VAC |
| Output Supply Phase | 1 Phase, 3 Wire |
| Nominal Frequency | 50.0Hz |
| Load Current | 36.3A |
| Voltage Regulation | 1.00% |
| Output Voltage Distortion with 100% Linear Load | <3% |
| Overload Capacity % | 100-110 : 10 Minutes 110-120 : 2 Minutes 120-150 : 30 sec 150-200 : 2sec 200-300 : 1sec 300-400 : 250msec |
| Peak Efficiency | 86% |
| Noise @ 1 meter | 55db |
| Cooling | Temp. Controlled Fan |
| Protections | Overload, Battery Low, Battery High, Output Low, Output High, Output Short Ckt., Overload, Under Frequency, Over Frequency, Solar Panel Reverse |
| Switches | Reset for System ON/OFF, UP, Down, Back, Enter (for LCD Configuration) |
| Indications | System ON, Inverter ON, SPV Charging, Grid Charging, Battery Low/High, Overload, Overheat, Mains Low, Mains High, Under Frequency, Over Frequency |
| Operating Temperature | 0-50°C |
| Max Relative Humidity @25°C (non Condensing) | 95% |
| Degree of Protection | IP21 |
| Data Logging | 30 Days Data Storage |
| Dimension(LxWxH) | 660 X 330 X 660 mm |
| Weight | 96kg |
| MRP ( Inclusive of all Taxes ) | Rs. 2,00,167.00 |
| Discounted Price ( Inclusive of all Taxes ) | Rs. 1,86,788.00 |
Unique Features of Alfa Online Solar PCU
Upto 30% more Efficient because of rMPPT Charge Controller
Advance DSP Based design Pure Sine Wave
NLSD & Grid Charging - Enable/Disable by LCD
USB based monitoring with 30 days data storage, DC and AC energy meter
User Configurable Parameters
Lightening Surge Protection
Short Circuit Protection
Intelligent Charge Sharing
Digital LCD (20X4)
To get UTL Dealer Number at your phone please fill the Form