Solar Management Unit (SMU)
UTL introducing a brand new and unique solar device name ' Solar Management Unit". SMU (solar management unit) is the India's special and unique device that converts your simple Inverter into Solar Inverter. SMU ensures priority usage of solar power to reduce grid (government electricity) consumption. The same SMU is work for both 12V & 24V inverter.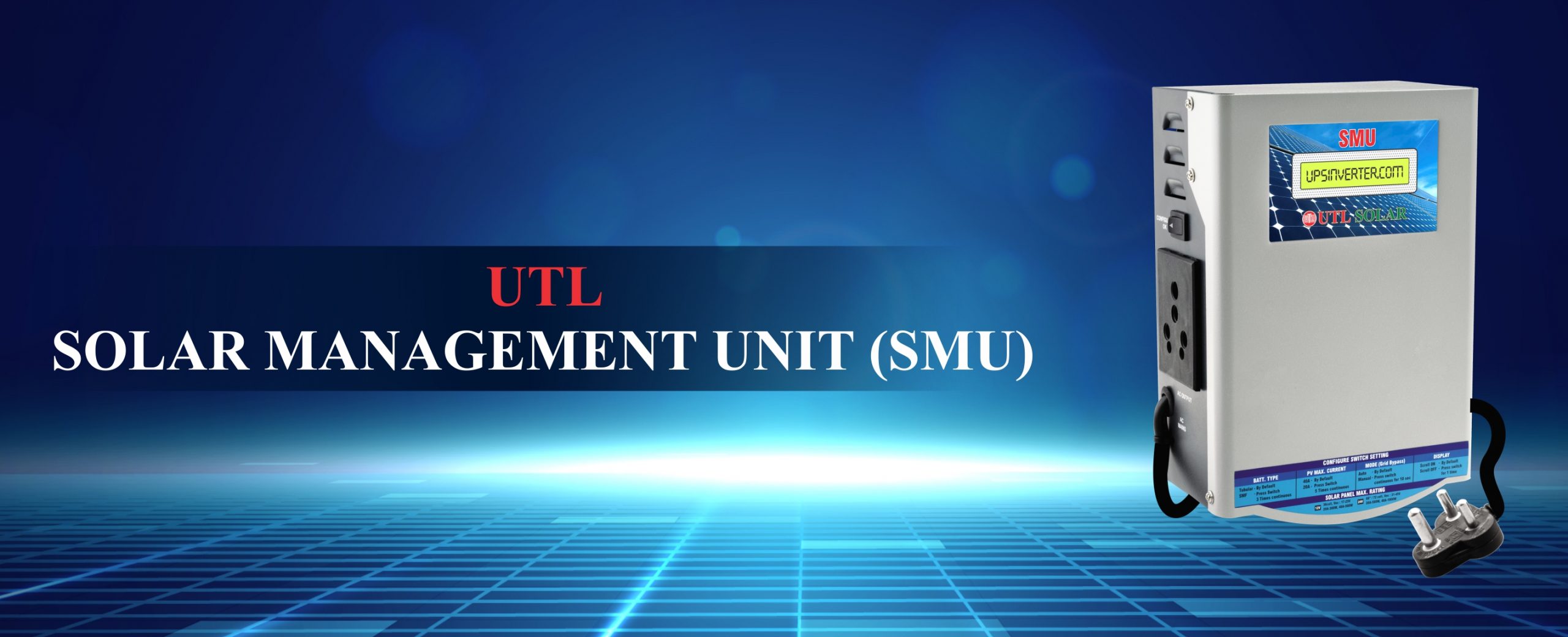 The charging process has been optimized for long battery life and improved system performance. The comprehensive self-diagnostics and extensive electronic protection can prevent damage against incorrect wiring or system faults.
If the sunlight is full then solar charge controller, charge the solar battery with the first priority of solar energy, when the battery is fully charged, it runs the load from the solar and automatically starts running the load on the power back in the evening. Solar management unit gives first priority to solar panel's power.
In this SMU, you get the in-built PWM Solar Charge Controller, which keeps the efficiency of solar panel and life of solar battery longer.
The best part of UTL SMU (solar management unit) is that it runs on one inverter with one battery or two batteries. It has best features to automatic battery selection. It is available in 12V or 24V with 1 year warranty.
Price of Solar Management Unit (SMU)
Price of solar management unit (SMU) is very affordable and anyone can purchase it. We have given below price of SMU inclusive of all taxes.
| | | |
| --- | --- | --- |
| SMU Rating | MRP ( Inclusive of all taxes ) | Discounted Price |
| 1224/40 | Rs. 8,720.00 | Rs. 5,624.00 |
Technical Details of Solar Management Unit (SMU)
UTL mentioned more and more unique features in SMU also simple features that can operate anyone. All technical details is given below.
Particulars

Description

General

SMU Capacity

SMU1224/40

Operating Temperature

0°C to 50°C

Storage Temperature

-20° C to 60°C

Battery Type

Tubular/SMF, Battery 12V/24V

Battery Capacity AH

100AH – 180AH

Battery charging regulation method

Bulk, Absorption, Float, Equalise

Electrical

Nominal System Voltage

12/24 DC

Charging Current (Solar)

20A-40A

Charge Controller Efficiency

>95%

Idle Consumption

<20mA

Operating Solar Input Voltage (VOC)

22.5V/45V

Max. Solar Input Voltage (VOC)

25A/45V

Min Solar Input Voltage (VOC)

15V/30V ± 2%

Solar Panel Recovery Voltage

17V/31V ± 2%

Max. Solar Current

40A

Efficiency

>95%

Battery Set Point @25 °C

Absorption voltage Tubular Battery

14.2V/28.4V±2%

Absorption voltage SMF Battery

13.7V/27.4V±2%

Absorption Duration

3hr

Float Voltage Tubular Battery

14V/28±2%

Float Voltage SMF Battery

13.7V/27.0V±2%

Bulk Voltage Tubular Battery

14.6V/29.2V±2%

Equalise Voltage

14.9/29.8V±2%

Equalise Duration

3hr

Equalise Calendar

28days

Mains reconnect when Solar not Present

At any Battery Voltage

Mains reconnect  when insufficient solar power

≤ 11.8V/23.6V ± 2%

Mains disconnect  when sufficient solar power for Tubular

≥ 13.8V/27.6V ± 2%

Mains disconnect when sufficient solar power for SMF

13.7V/27.4V ± 2%

Physical

Fixing

Wall Mounted

Weight

1.5Kg

Ingress Protection

IP-20

Dimension

228X152X76 mm

Rate

Discounted Price ( Inclusive of all Taxes )

Rs. 5,624.00
Special Features
High Speed with high Performance
UTL`s solar management unit (SMU) is embed with a high speed microcontroller which increases the performance of the solar system. Solar management unit provide ability to perform its task more reliably and efficiently.
High Reliability with Longer Operational Life
It is highly reliable and it has longer operational life. Solar management unit can be operated in extreme environment conditions and can be operated at temperature range that lies in 0°C to 60°C.
Prioritize Solar Power over Grid Power
SMU ensures priority usage of solar energy over government electricity (grid) to reduce grid consumption. In daytime condition, the system will give priority to solar energy and use grid power only when the solar power is insufficient to sustain the load requirement.
Increase the battery lifetime
SMU utilizes four stage battery charging algorithm that enhances the battery lifespan. In bulk stage SMU feeds the battery installed to it a constant boost charging current until its voltage reaches 14.4V and the float current, then in absorption stage it maintains this voltage above 14.2V for 3 hrs.
Automatic/ Manual Operation
The system can work as a domestic inverter and a solar inverter automatically or manually through a switch except in night condition. In night condition, first it will harvests the stored battery energy then it will work as normal domestic inverter.
Inbuilt Protection to Avoid Battery Undercharge and Over-charge
SMU has the capability to charge a solar battery which goes in deep discharge condition. It can charge the battery if the battery voltage during discharge reaches up to 8V per battery. Solar management unit uses four stages to charge the battery i.e. Boost, Absorption, Float and Equalization. This feature protects the battery for being over charged.
Very Low Consumption in Idle State
It have very low idle consumption, in idle state it consumes less than 20mA current which makes it more efficient than any other solar management unit.
Electronic protection
Over charging Voltage
Over charging Current
Under voltage
Battery reverse polarity protection
Solar reverse polarity protection
Reverse current flow at night from battery to solar array
Over temperature
Solar Low Voltage
Display Parameter
Battery - Voltage, Current, Type
Solar- Voltage, Current
Mode Selection
Solar Status – High, Low, Overload, Overheat.
Saving kWh
Mains Present – Low, High, Absent
Maximum PV Current
Special Features
There are some special features that given below.
High Speed and High Performance micro-controller
High reliability with longer operational life
Inbuilt protection to avoid battery undercharge and over-charge
Inbuilt PWM Technology Charge Controller
Automatic voltage selection for 12V or 24V
Solar Prioritization
Compact design with wall mounting
Eco friendly
FAQs about Solar Management Unit (SMU)
Q. Is this based on MPPT charge control?
Answer: No, it's based on PWM (Pulse Width Modulation).
Q. Can I connect 180w two panels and 125w two panels 12v with 12v single solar battery with UTL SMU?
Answer: Yes you can use but there will be some voltage drop because you are using two different watt panels.
Q. My inverter is in 12 volt and solar battery also in 12v, can I connect 24 volt panel to SMU?
Answer: No, it supports only 12v.
Q. Can I connect 330watt *6 panels? It means total 1980 watt?
Answer: You can connect maximum 4 solar panels of 330watt.
Q. Can I connect SMU with Inverter?
Answer: Yes.
Q. Can I connect 180watt 4nos solar panel of voc this panel is 23.26 volt with 12v battery?
Answer: Yes. You can connect 180 watt 4 solar panels with this UTL SMU. We can provide you installation support on call at the time of connection.
Q.How much watts and Amp solar panels will support this controller?
Answer: It can support three solar panel of 330 watt and six solar panel of 160watt, it support 12/24 both.
Q. Can I connect 4nos solar panel with 315w 24v rating?
Answer: It means 315w of 4 panels i.e. 315*4 = 1260 watt at 24v is not possible, the panel can supply nearly 300amps solar charger designed to 40a.
Q. I have one 160ah*12v and four 12v*180watt solar panels (voc 23.5v and 9.5a). Please tell me which way I can connect series or parallel?
Answer: Yes, you can connect solar panels in parallel way.
Q. Can I use it directly 1hp submersible pump with UTL SMU?
Answer: No, it can't run without Inverter and battery.
Q. When does it connect the grid connection in day time? How many amps from solar panel does need in the morning to start it?
Answer: When the panel voltage goes below 25v it goes to grid and amp is not the parameter for starting.
Q. Is UTL a Chinese company?
Answer: No. UTL is a 25 year old Indian company, have 4 manufacturing units in Himachal Pradesh and head office in Delhi.
Q. May I use 150watt single solar panel, is it possible?
Answer: Yes, no issue.
Q. Can I use it without inverter for DC load only?
Answer: No.
To get UTL Dealer Number at your phone please fill the Form