About 150AH Solar Battery
150Ah solar battery is Tub flooded solar battery specially designed for solar applications with low maintenance and has topping up frequency once in 8-10 Months. UTL 150Ah solar battery has self discharge rate €"3% Per Month @ 27 degree Celsius. It is designed with thicker positive plates and 20% more electrolyte to withstand power outage and has high purity, corrosion-resistant proprietary spine alloy composition for long battery life for extra-strong. UTL 150Ah solar battery is flexible oxidation resistant gauntlet for better performance and long life puncture resistant polyethylene separator which minimize the possibility of internal short circuits.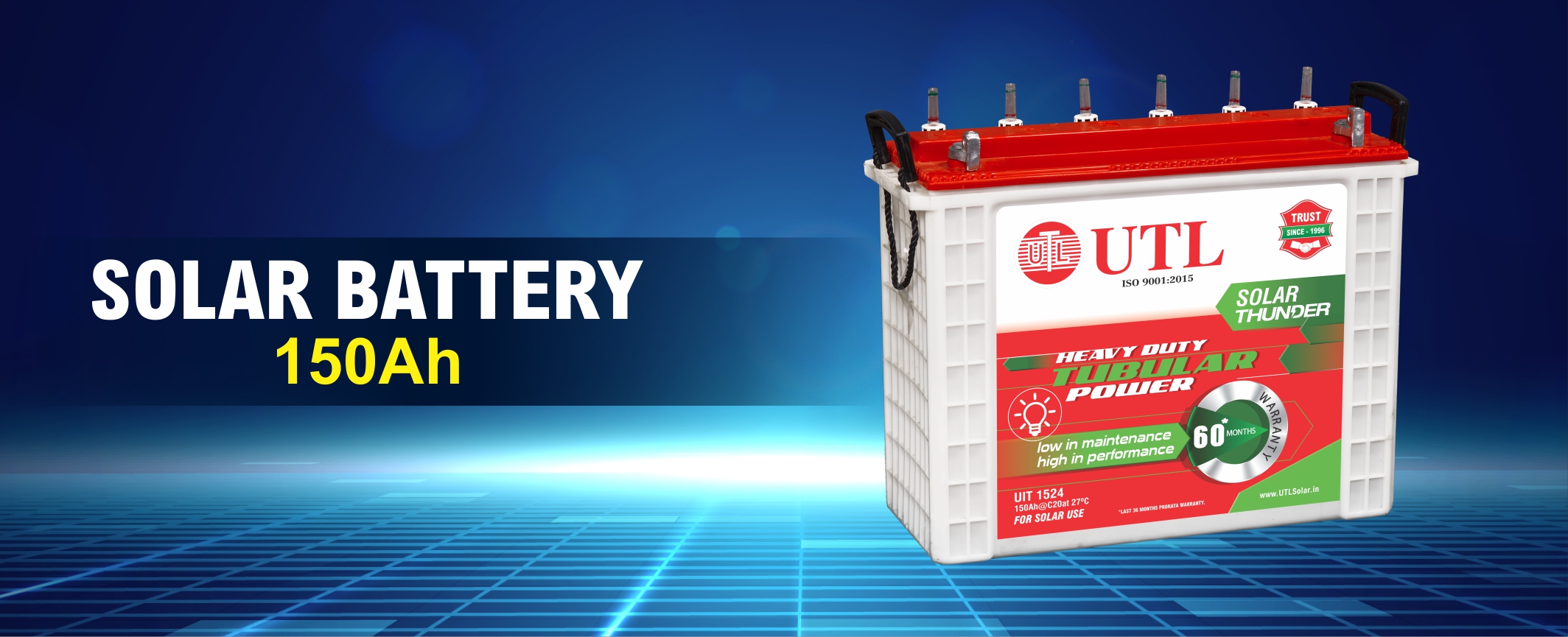 Price of 150AH Solar Battery
There is given below the latest discounted price list of UTL 150AH solar battery with model. 150AH solar battery comes in 60 month of warranty.
| | | |
| --- | --- | --- |
| Model | MRP ( Inclusive of all Taxes ) | Discounted Price ( Inclusive of all Taxes ) |
| UST1560 150AH | Rs. 21,706.00 | Rs. 20,482.00 |
Specification of UST1560 150AH Solar Battery
| | |
| --- | --- |
| Particulars | Description |
| Brand | UTL Solar |
| Model | UST1560 |
| Capacity | 150Ah |
| Warranty | 60 months |
| Nominal Voltage | 12volt |
| Container | IT 500 |
| Dimension | 503*190*410 mm |
| Filled Weight | 62kg |
| Dry Weight | 37.5kg |
| Plate Combination | 3+4 |
| MRP ( Inclusive of all Taxes ) | Rs. 21,706.00 |
| Discounted Price ( Inclusive of all Taxes ) | Rs. 20,482.00 |
Unique Features of 150AH Solar Battery
Unique tubular gauntlet /Nat positive plates design
Superior active material & special grid alloy
Float vent plug for electrolyte level indicator
Covered with HDPE material caps
C10 rated solar battery for better performance
Extremely high life cycle 1500 @ 80% DOD
Comes with non-leaking vent plugs
High-pressure die casting for a unique experience
Very low self-discharge rate i.e. 2mV/per day
Benefits of UTL Solar Battery
Reliable and safe solar battery for all electrical needs
Easy to transport, install, and clean
Cheap and maintenance-free solar battery
Environment-friendly solar solution for backups
Equally suitable for off-grid and hybrid solar system
Quick rechargeable even after deep discharge
Deep satisfaction with only a one-time investment
To get UTL Battery Dealer Number at your phone please fill the Form