About 50kVA Solar Inverter
A 50kVA solar inverter is an intelligent and multifunctional power conversion and supply device which consists of a solar charge controller, a rectifier, and an inverter. It has multiple power point trackers, a wide input voltage range, an integrated data logger as well as RS485/Wi-Fi interface. It is the latest technology commercial solar inverter with user-friendly switches and various protections.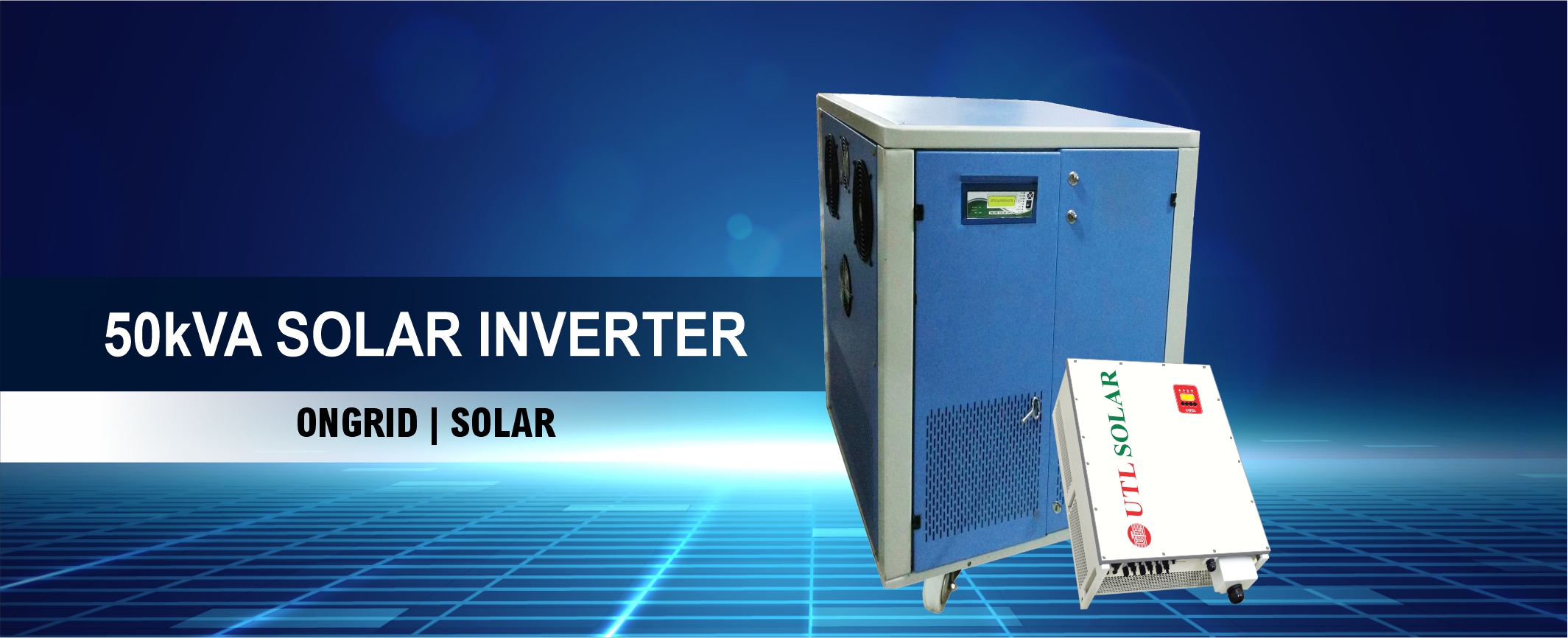 The UTL 50kVA solar inverter is one of the best inverter options when it comes to such high capacity. It takes the DC power generated by solar panels and convert it into usable AC power subsequently. 50kVA solar inverter has the capacity to provide a maximum of 55,000 watts of power with 98% efficiency. These solar inverters are capable of running everything from lights to air conditioners and lifts to elevators, in a most cost-effective manner. Its secure power supply feature reduces the carbon footprints and provides good quality power with regulated voltage.
50kVA 360V solar inverter by UTL solar is an ideal inverter for medium and large-scale residential, commercial and industrial solar photovoltaic applications. These solar inverters are the best option to supply green and clean electricity, which is actually purer than even the power supplied by the grid and is 100% safe to run the most sophisticated, expensive, and sensitive home and office equipment, silently. Once you get installed, you will definitely get complete peace of mind for at least 10 to 20 years.
UTL 50kVA Solar Inverter Range
| | | |
| --- | --- | --- |
| Models | MRP ( Inclusive of all Taxes ) | Discounted Price ( Inclusive of all Taxes ) |
| 50kVA/3 Phase String Solar Inverter | Rs.3,10,000 | Rs.2,50,325 |
| 50kVA/360V Star Online Solar PCU | Rs.6,18,750 | Rs.6,29,358 |
50kVA On-Grid String Solar Inverter (3 Phase)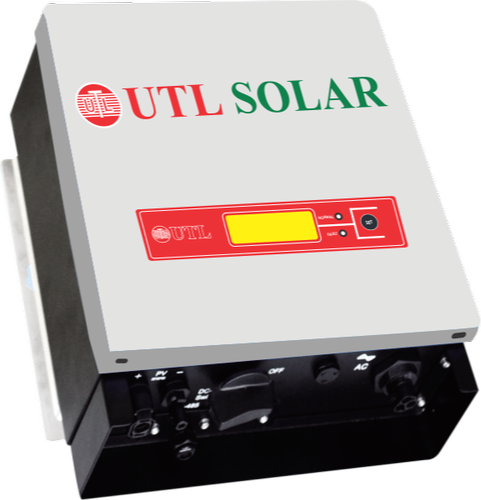 | | |
| --- | --- |
| Particular | Description |
| Model | UTL 50 GT |
| System Rating | 50kVA - 3 Phase |
| Max. DC Power | 65kW |
| Max. DC Voltage/Nominal DC Voltage | 1000V |
| MPPT Voltage Range | 250V - 950V |
| Full Load Voltage Range | 480V-800V |
| Normal DC Voltage | 620V |
| Min./Start DC Voltage | 200V - 250V |
| No. of MPP Trackers | 3 |
| Strings as per MPP Tracker | 4 |
| Max. Input Current per MPP Tracker | 36A |
| Normal AC Output Power | 50kW |
| Max. AC Output Power | 55kW |
| Normal AC Voltage | 400V |
| AC Voltage Range | 400V ± 20% |
| Normal AC Grid Frequency | 50/60Hz |
| AC Grid Frequency Range | 50/60Hz (± 5Hz) |
| Rated Output Current | 72A |
| Max. Output Current | 80A |
| THDI | <3% |
| AC Connection | 3W+N+PE/3W+P E |
| Topology | Transformerless |
| Maximum Efficiency | 98.6% |
| Euro-eta | 98.2% |
| All-Pole Fault Current Monitoring Unit | Yes |
| Ground Fault Monitoring | Yes |
| Operating Temperature Range | -25°C to +60°C |
| Noise Emission | <60dB |
| Protection Rating | IP65 |
| LCD Display | Yes |
| Cooling Concept | Fans |
| Interfaces | RS485/Wi-Fi |
| Dimension | 636mmX958mmX260 mm |
| Weight | 68kG |
| MRP ( Inclusive of all Taxes ) | Rs.2,50,325 |
| Discounted Price ( Inclusive of all Taxes ) | Rs.3,10,000 |
Silent Features
Transformer-less inverter for better compatibility.
Low harmonic current distortion (THDi<3%).
IP65 certified solar product by UTL.
Comes with Onboard SPDs for DC & AC sides.
Supportable for Wi-Fi and monitoring applications.
Manufactured with multiple protection levels.
5 years standard warranty for better reliability.
50kVA/360V Star Online Solar PCU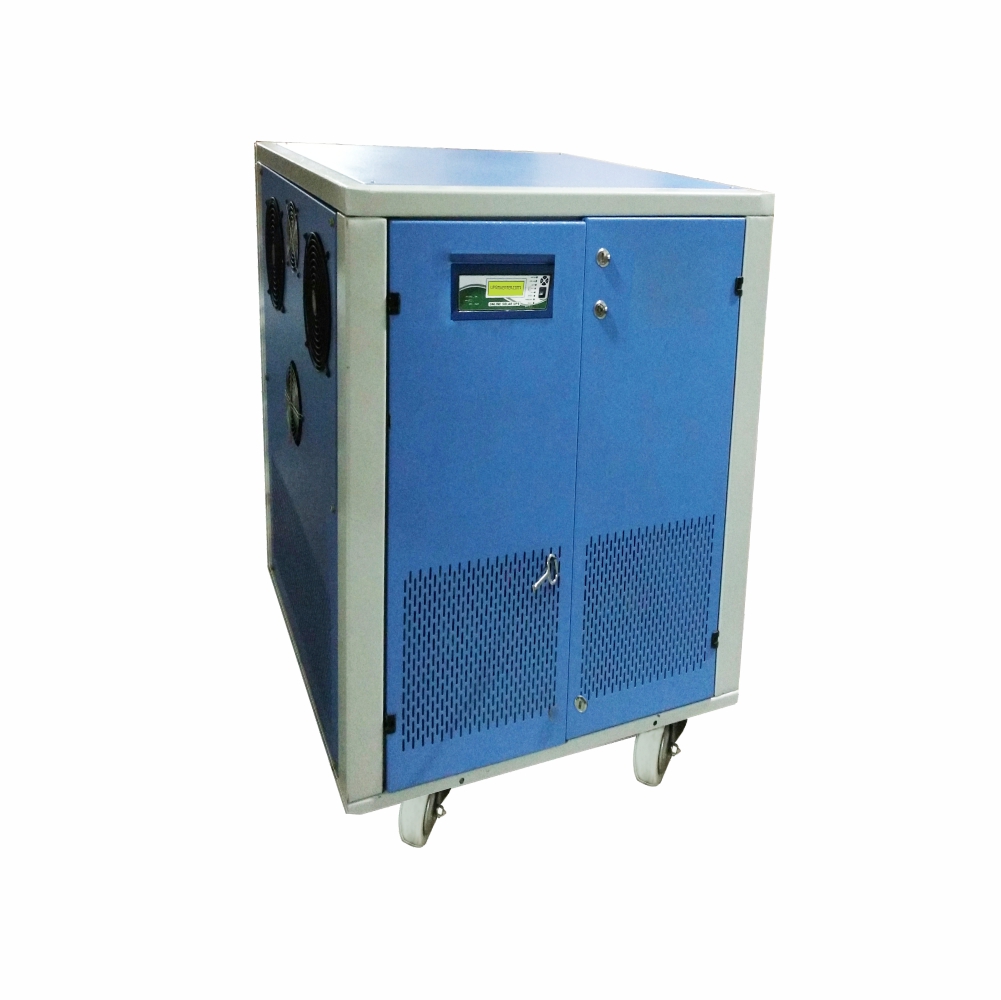 Particulars
Description
Power Rating
50kVA/360V
Voltage Range
400V±20% Three-phase four-wire
Frequency
50Hz±10%
Power Factor
0.95
Charger Topology
Buck
Connection Type
Terminal Block
Normal PV Power
50kW
Voc (min-max)
540V – 810V
Vmp
430V - 730V
Switching Device
IGBT
Switching Freq.
16KHz
No. of Charger Controller
One
Type of Charger
MPPT
Peak Efficiency (DC - DC)
96%
Output Voltage (Ph-Ph)
380V/400V/415V ±1% Configurable by LCD Display
Output Load Current Per Phase
57.9A
Output Efficiency (AC – AC)
>88%@Full Load
Output Frequency
50Hz
Waveform
Pure Sine Wave
Transient response
<8 (10% - 90% Linear Load)
Voltage Harmonics
<3% (Linear Load)
Crest Factor
3:1
Voltage Regulation
±1%
Frequency Regulation
±0.05Hz
Alarm
Battery Low, Battery High, Overload
LEDs
UPS ON, CHG ON, Input R/Y/B High & low, Output Low-High, Overload, Fault, Battery Low/High, SPV Low/High, SPV CHG ON
Protections
Output Overvoltage/Under-voltage,

Overload, Output Short-circuit,

Battery Overvoltage/under voltage,

SPV Under Voltage/ Over Voltage,

Input Under-Voltage/Over Voltage

Transfer Time
0 msec
Extended Battery Charging
Optional
Caster Wheels
Yes
Operating Environment
0-50° C
Operating Relative Humidity
5%-95% (Non-condensed)
Storage Environment
0-75° C
Storage Relative Humidity
0-95%
Degree of Protection
IP20
Remote Monitoring
Ethernet (Optional)
Dimension (LXWXH)
863x863x1092 mm
MRP ( Inclusive of all Taxes )
Rs.7,18,750
Discounted Price ( Inclusive of all Taxes )
Rs.6,29,358
Silent Features
Short circuit, input under/over-voltage protection.
Intelligent charge sharing.
DSP based design Pure Sinewave
Built-in rMPPT charge controller.
Lightning, surge protection by SPD.
Thermal Protection.
Maximum Preference for Solar Power.
Ethernet-based monitoring.
Noiseless in operation.
Robust Design - 20 years of Product life.
AC and DC Parameter Configurable from LCD.
DC- Charging Voltage Battery Charging Current, Battery Low Cut/High Cut.
High Surge Capability (up to 300%) for starting heavy load.
High Efficiency & High Reliability.
Configurable Priority.

Solar/Battery/Grid
Solar/Grid/Battery
FAQs
What is the efficiency rate of the 50kVA UTL solar inverter?
The peak efficiency of UTL 50kVA solar inverter is 98%.
What is the inbuilt MPPT charge controller in 50kVA solar inverter?
A charge controller is a small but very useful device that prevents your sensitive appliances from the fluctuated voltage or current.
What are the available models in UTL 50kVA solar inverter?
There are two models of UTL 50kVA solar inverter that are available in the market. One is a 50kVA string solar inverter (on-grid) and the other is 50kVA Star Online solar PCU.
What is the average payback time period of UTL's 50kVA commercial solar inverter?
The average payback period of UTL 50kVA solar inverter is 3 to 5 years. Within 3 to 5 years, you will get all your investment back through the savings.
Is a 50kVA solar inverter suitable for my medium-size home?
Mostly, 50kVA solar inverters are used at commercial places because it is a high capacity solar inverter. If your daily electrical consumption is that much high than you can install it at your home otherwise go for a lower capacity solar inverter.
What is the size of a 50kVA solar inverter?
The size of a solar inverter varies according to its model and capacity. But the average size of a 50kVA solar inverter is around (LXWXH) 863x863x1092 mm.
What kind of business does a 50kVA solar inverter suit best?
A 50kVA solar inverter is best for high power consumption areas such as large scale homes, farmhouse, small schools, institutes, shops, petrol pumps, restaurants, hotels, PGs, and guest houses.